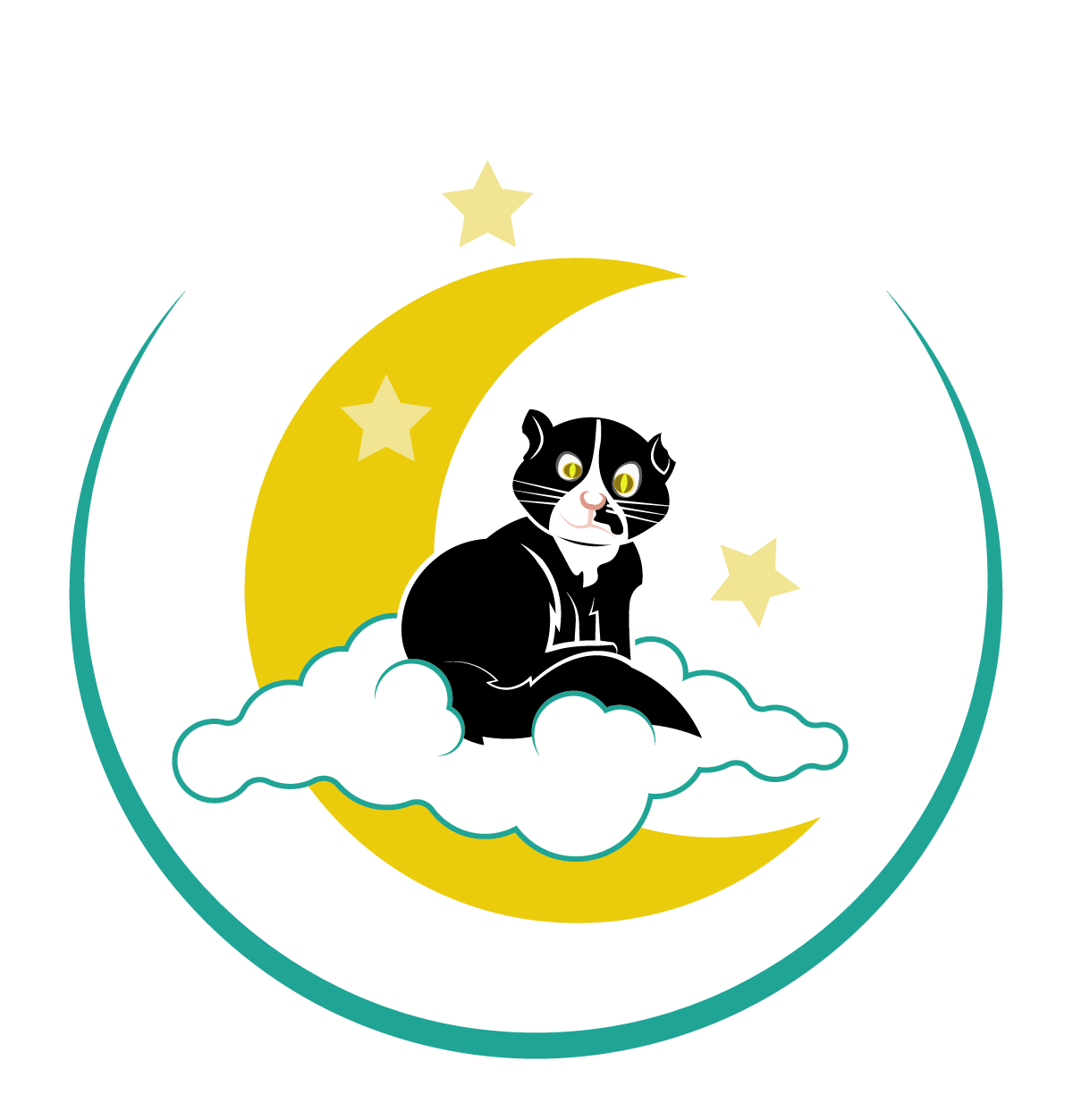 Meet the Cats of Feline Dreams, Inc.!
We are so proud to provide a safe haven for these precious lives while they await the happily "furever" after they so deserve. We hope you will consider adding one of these unique souls to your beautiful family.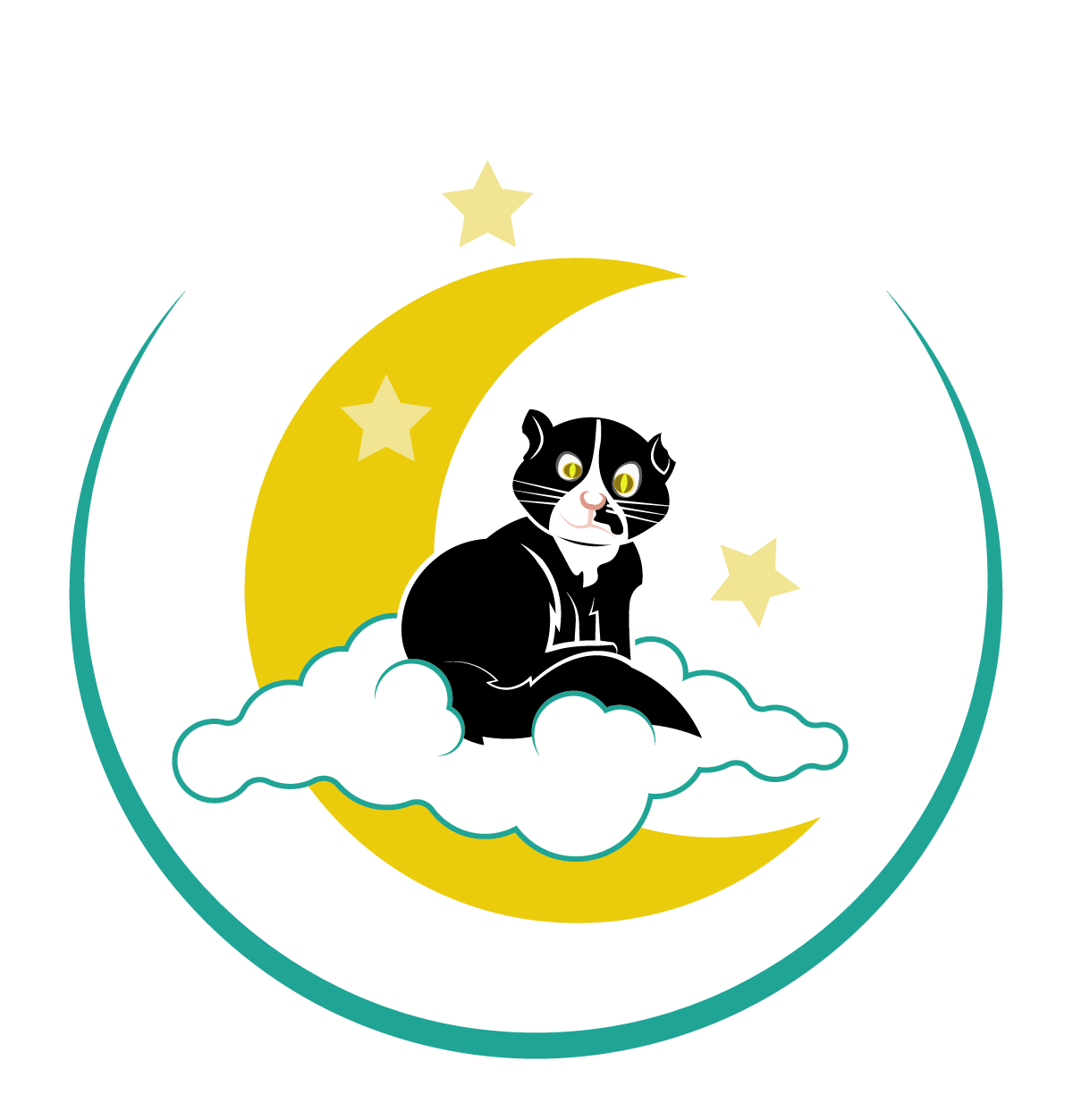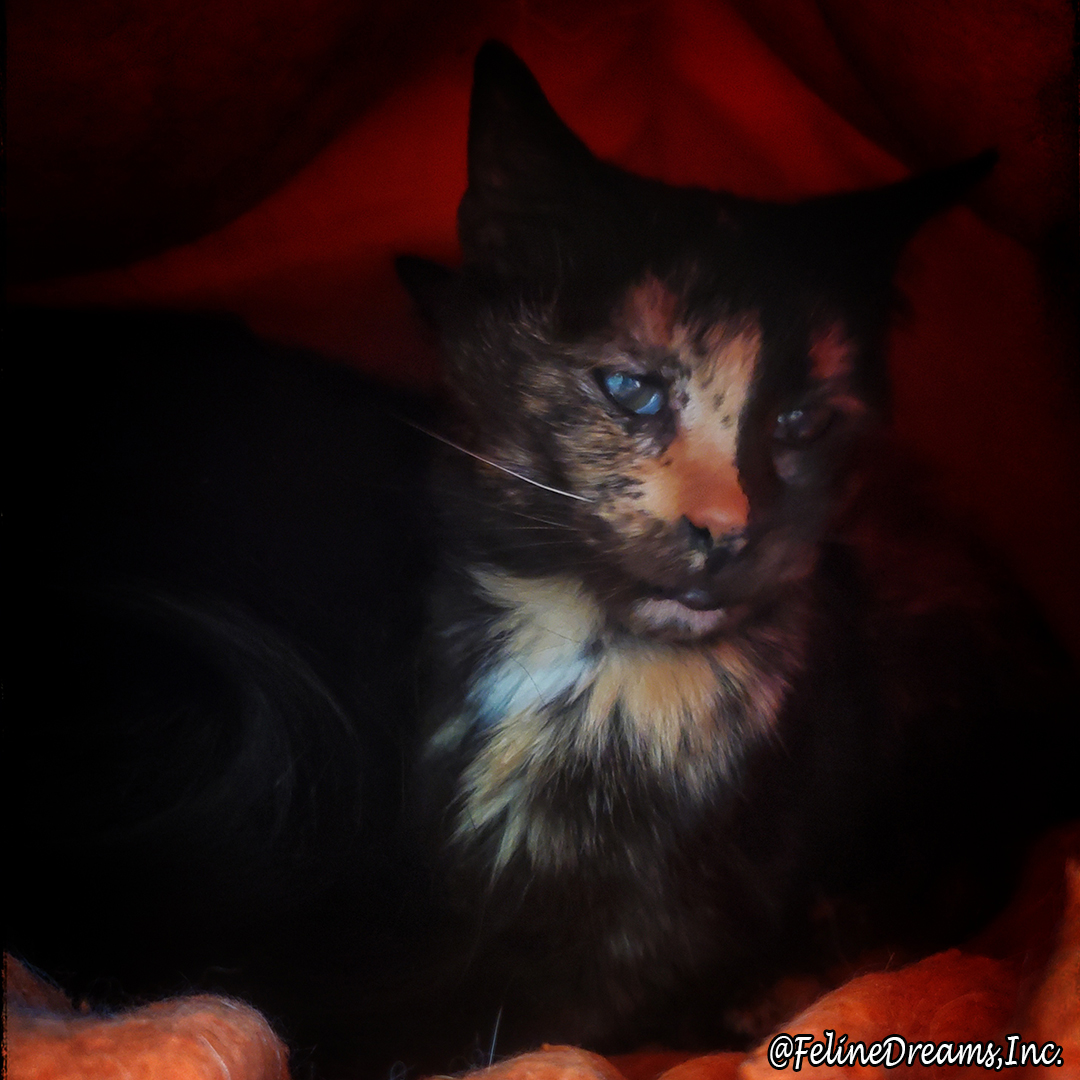 Meet Monet
Monet is an incredible girl with a will like no other! At the age of 16, she is living her best life with a mother who could not picture life without her. See, Monet was left sitting in the middle of a busy 6 lane highway with little vision to guide her to any type of safety. Sadly, people prefer to dump their animals when they get older and develop health issues. It seems to be an easy choice made by too many.
Fortunately for Monet, a good Samaritan spotted her and could not leave her sitting there, especially knowing what the outcome could and likely would have been. So she picked her up and drove her to the nearest Petsmart because she knew that a local rescue had volunteers there that could potentially help her out. Thank goodness those volunteers stepped up and a plea went out looking for a foster.
Monet melted many a heart with her good looks and charming personality. Who could resist?! Health concerns aside, she has been the light of our lives.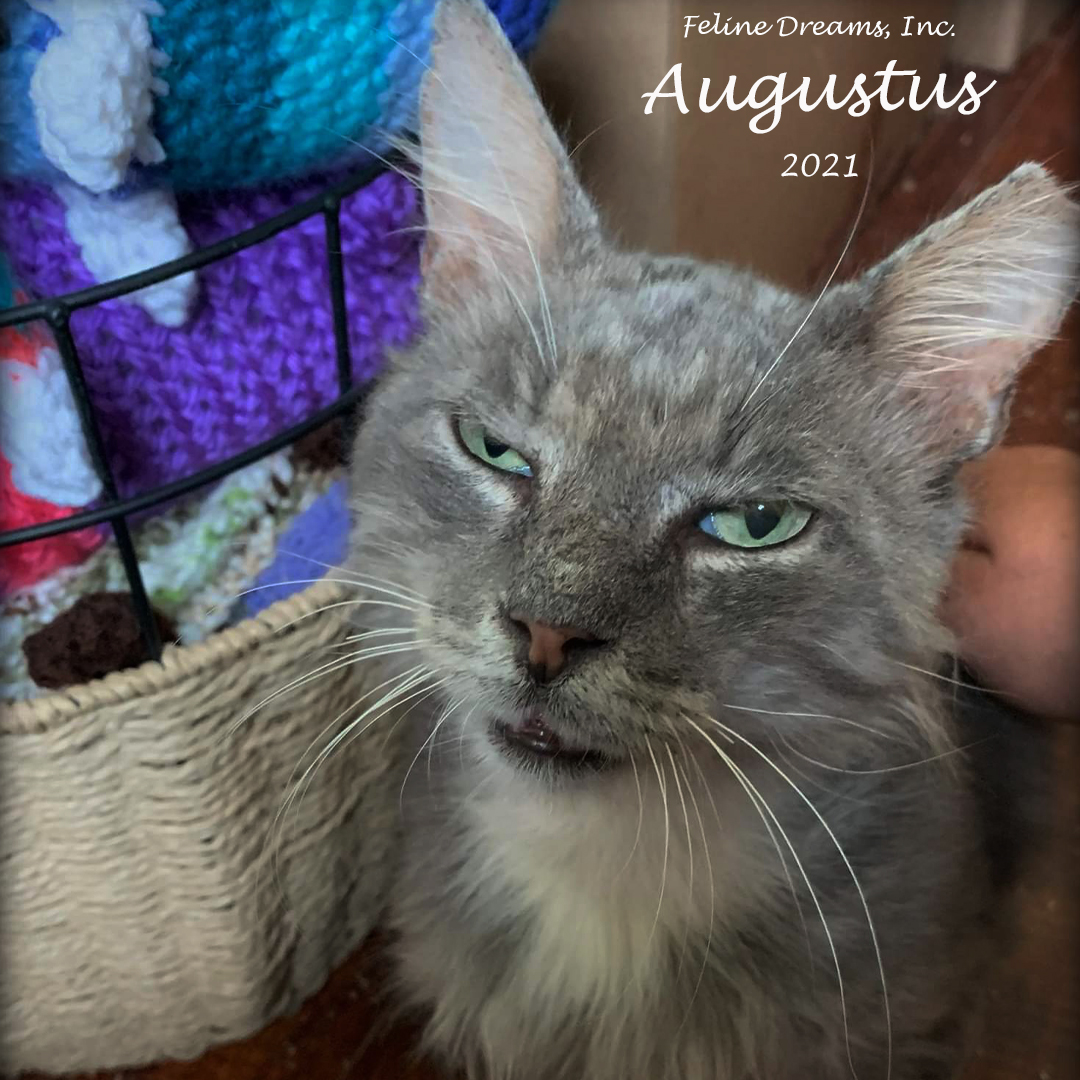 Augustus
Maine Coone Mix
DOB: May 12, 2013
Male
Special Need: FIV+, Vision Impaired, Special Diet (Urinary)
Augustus is by far one of the sweetest most affectionate boys you will ever meet! If you are looking for a snuggle buddy who will make you feel like you are the only one for him, Augustus is your guy!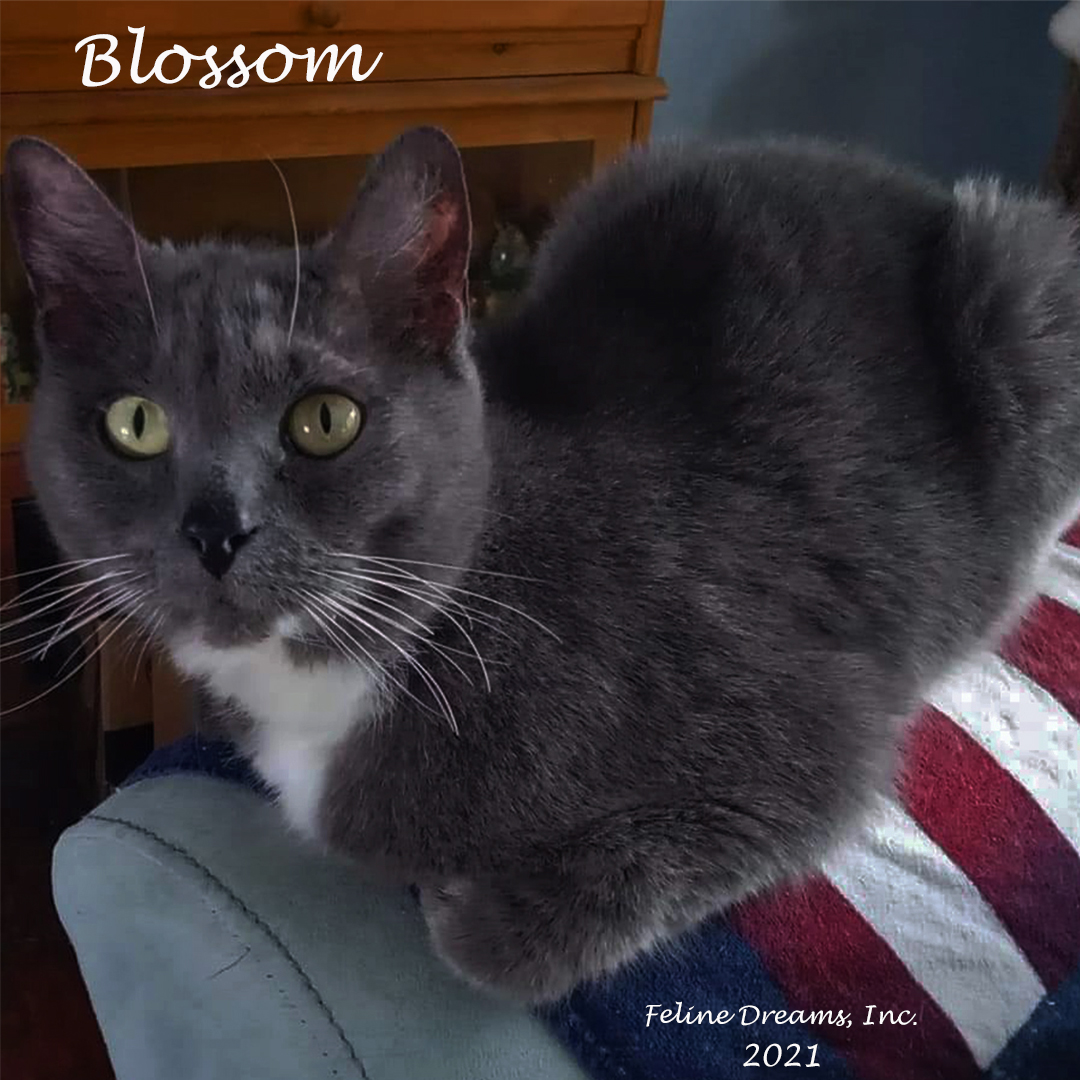 Blossom
Russian Blue Mix
DOB: January 01, 2018
Female
Special Need: Skin/Dietary Allergies
Blossom is an outgoing overly affectionate girl who loves adventure and will keep you busy! She get along great with other cats, but would do well as an only cat who can soak up all that love she can!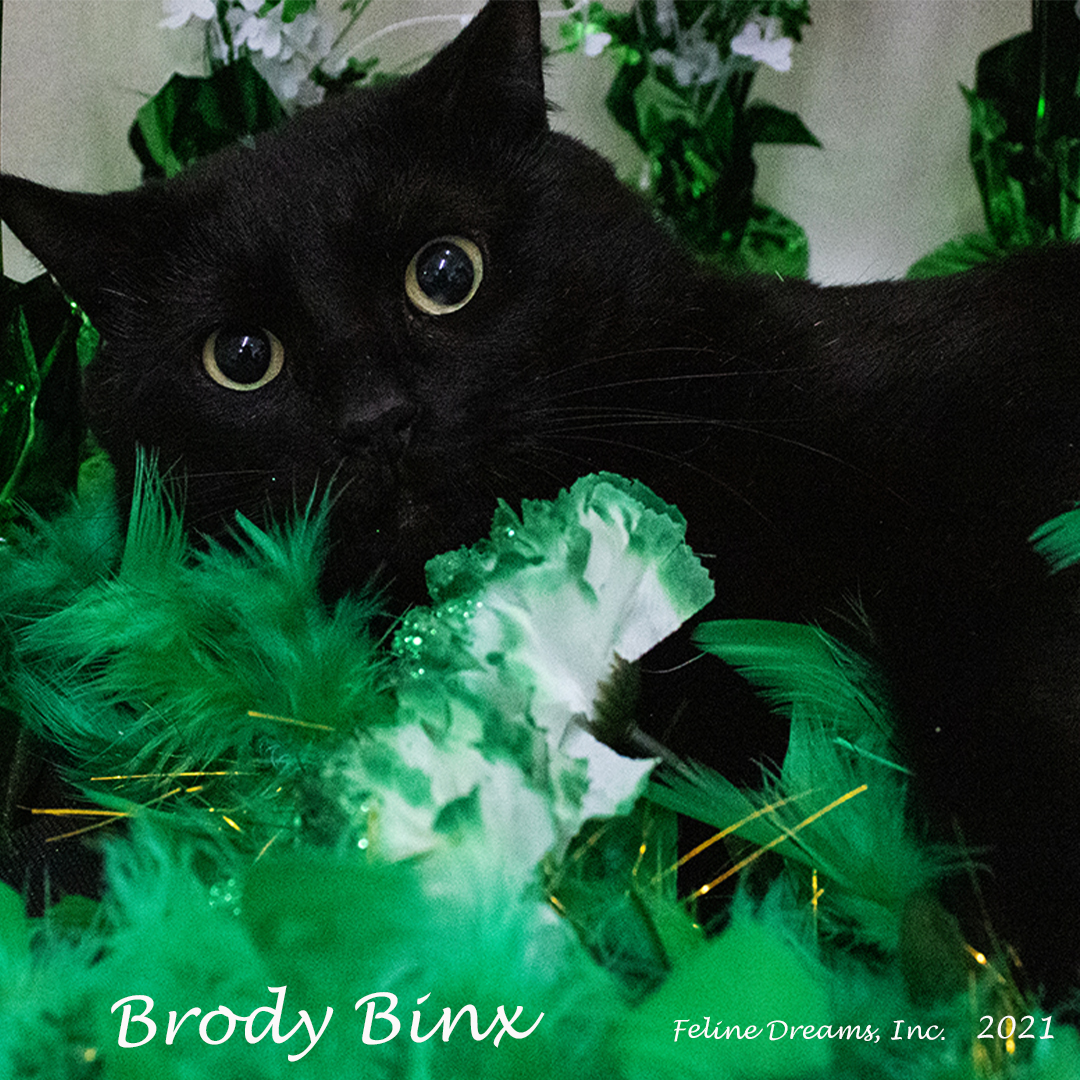 Brody Binx
Domestic Shorthair
DOB: January 01, 2019
Male
Special Need: Urinary Diet
Brody is a handsome ole tomcat who just needs a safe place to call home with a family who will give him love and attention but respect that he enjoys his downtime too. He will purr you sweet songs and lay with you on the couch.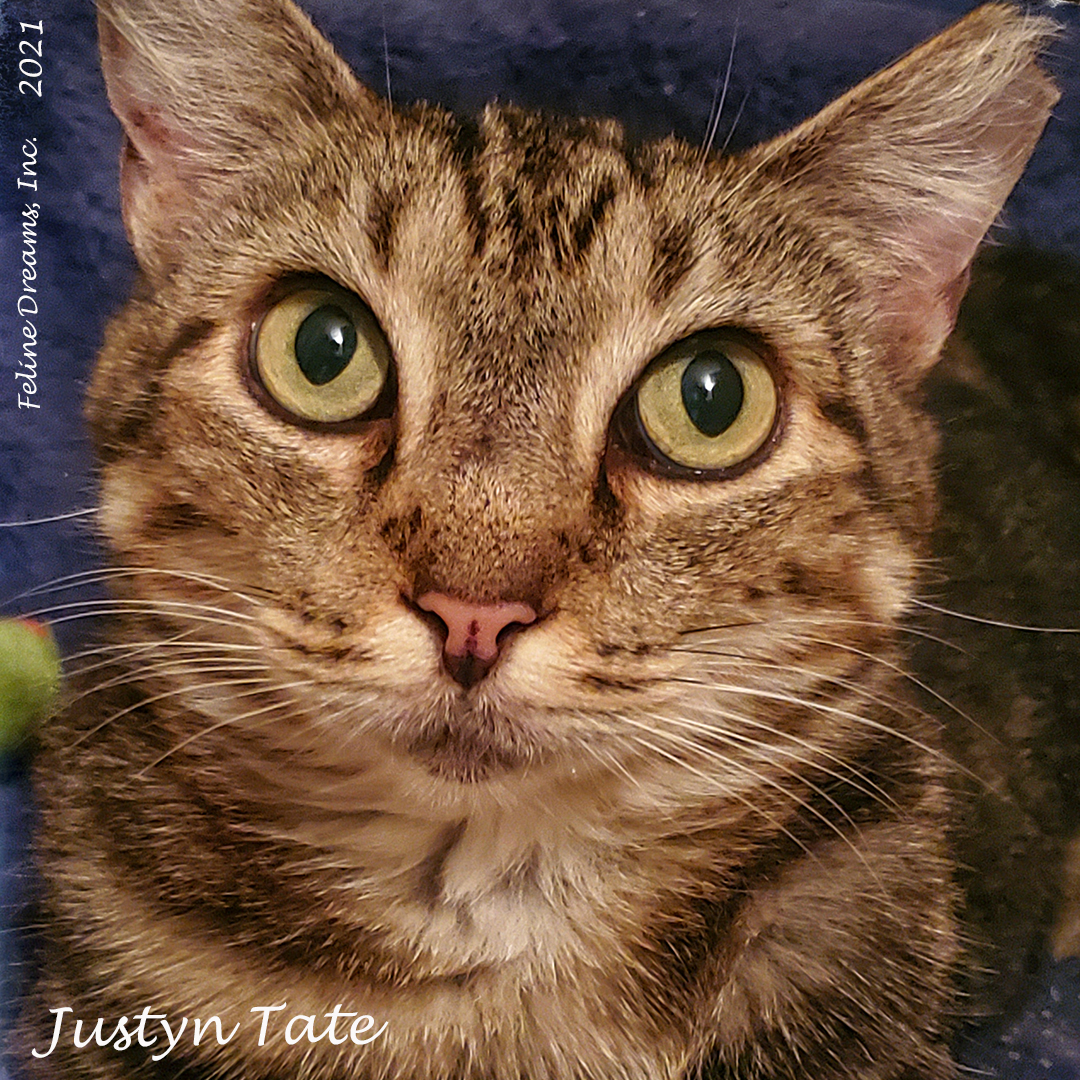 Justyn Tate
Domestic Shorthair
DOB: July 25, 2012
Male
Justyn is a shy guy with love to give to a patient, calm, welcoming family . He gets along well with other cats but tends to remain fairly independent. He LOVES food and treats, especially Churu! He is easy going and low maintenance.. he just wants a family to call his own.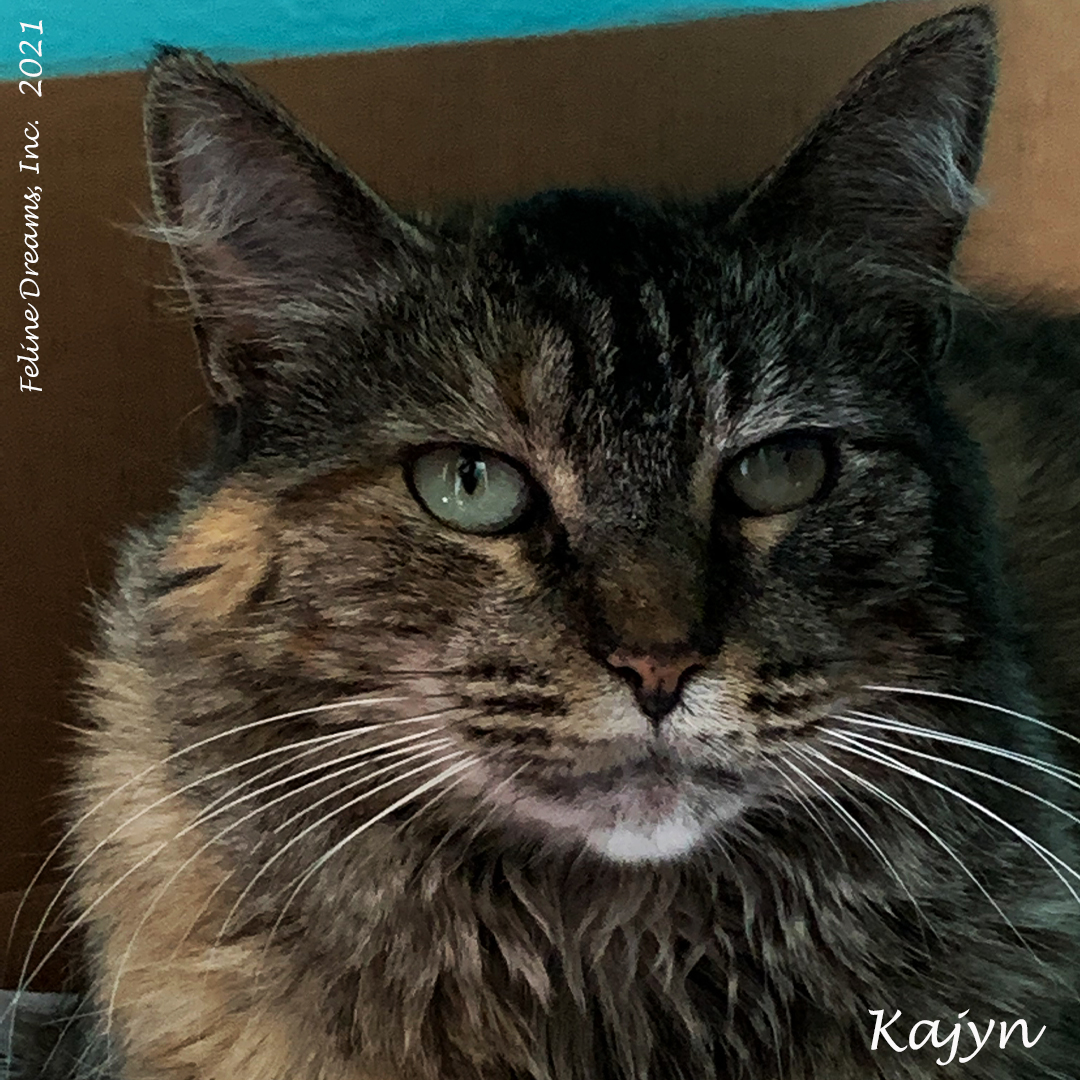 Kajyn
Torbie (Tortie/Tabby mix)
DOB: June 04, 2015
Female
Special Need: Vision Impaired in her left eye.
Kajyn is looking for a quiet calm home to grace with her purrs and beauty. She is a calm quiet girl herself, but she is sweet, food motivated, and welcomes pets with lots of purrs.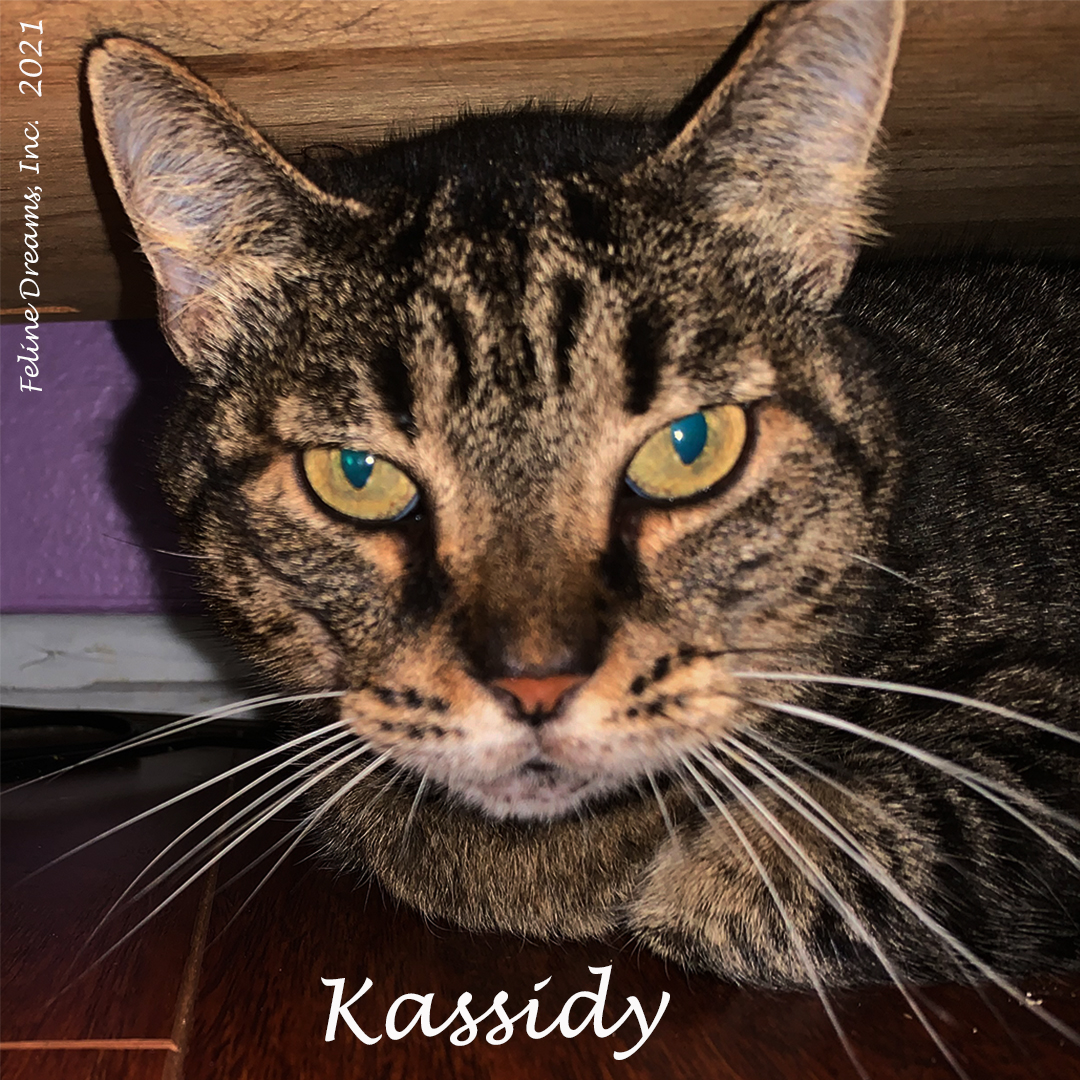 Kassidy
Domestic Shorthair
DOB: April 13, 2011
Female
* Must be Only Cat
Kassidy is looking to leave a traumatic past behind and enjoy having a family to call her own. She would do best as an only cat as she prefers to be the center of attention! She has a lovely purr and will snuggle you in bed at night if you let her!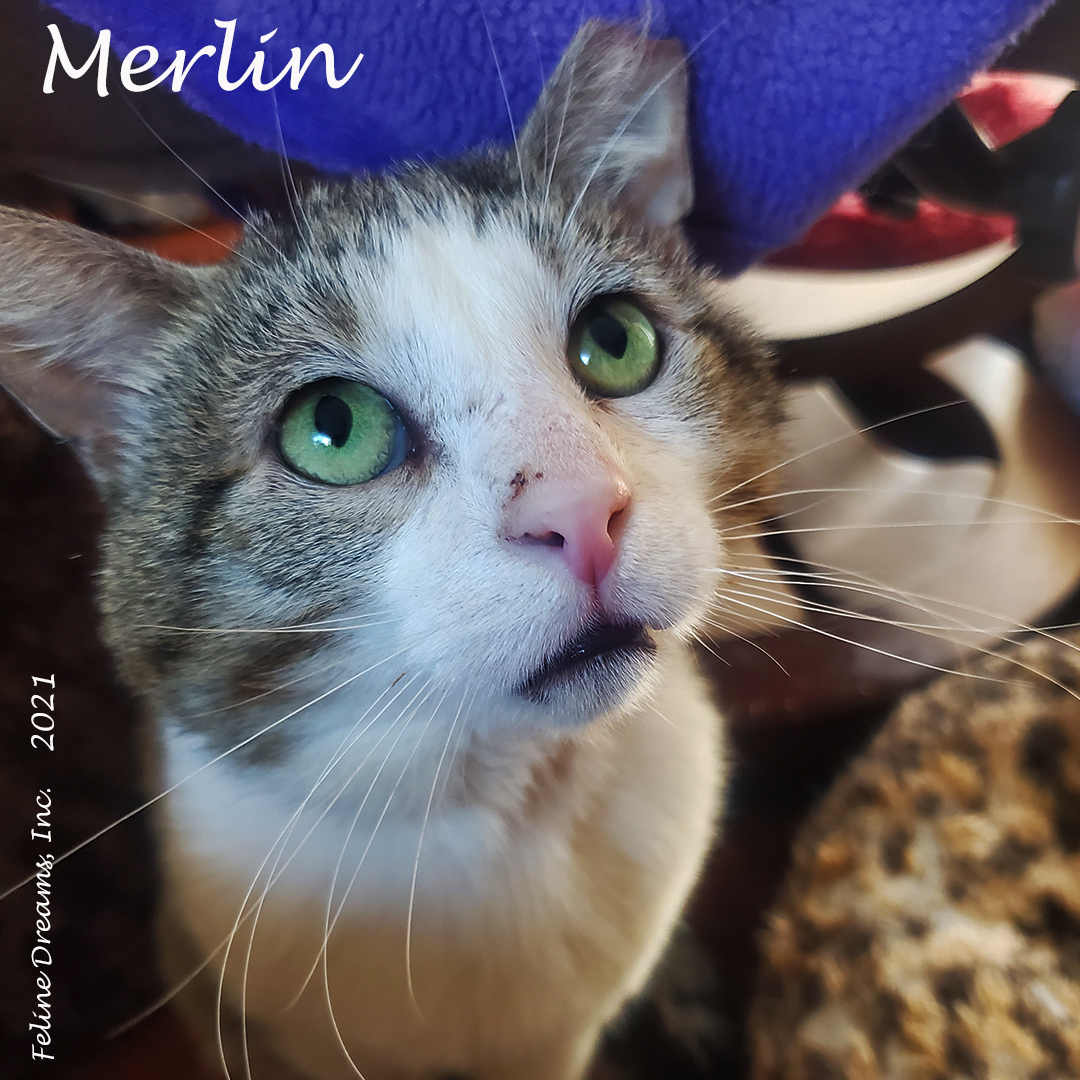 Merlin
Domestic Shorthair
DOB: April 08, 2018
Male
Merlin found himself getting beat up on the streets and needing help. Fortunately, we were able to get him better and off the street!
He is incredibly sweet and very outgoing. He enjoys lots of attention and is very food and treat motivated!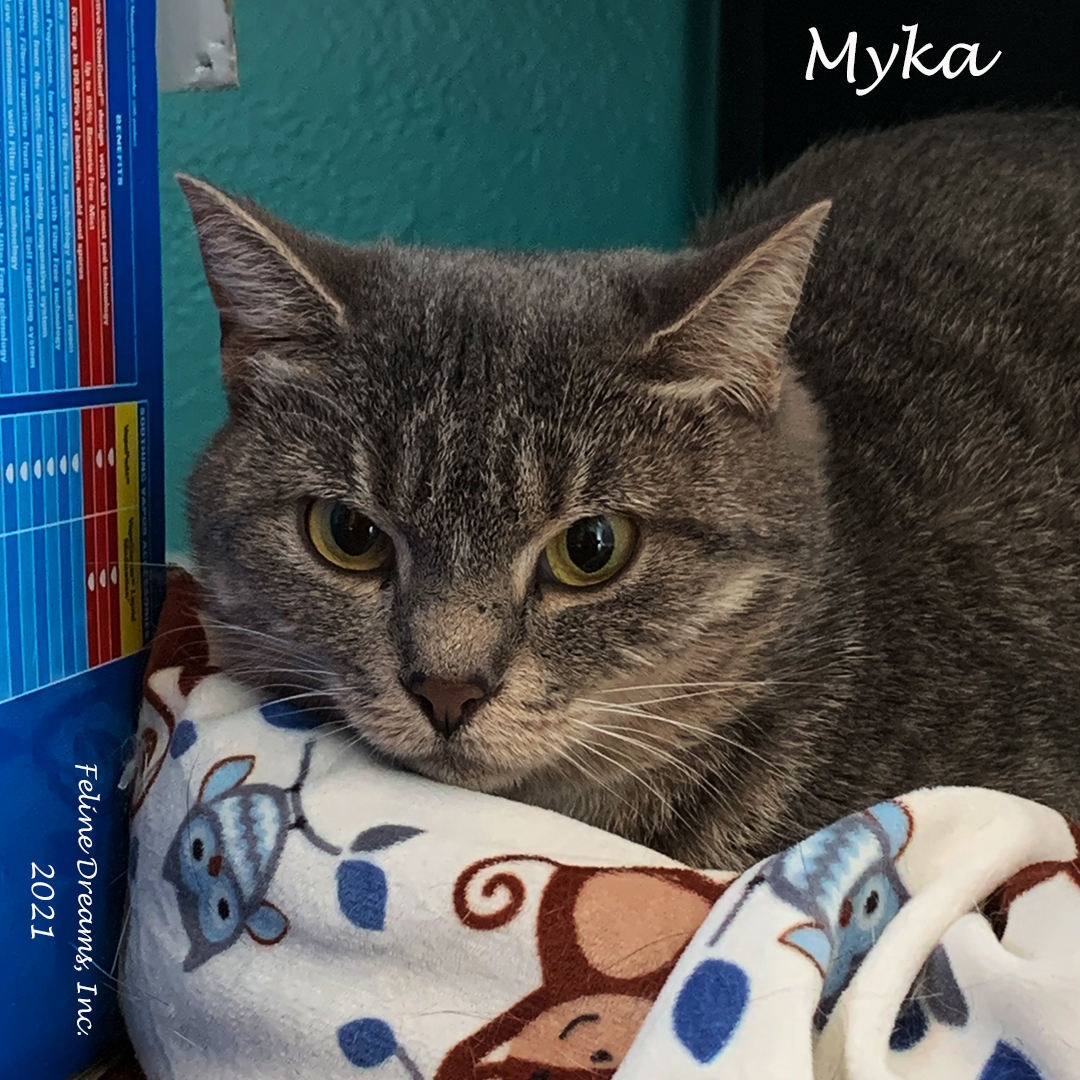 Myka
Domestic Shorthair
DOB: June 25, 2020
Female
Myka was dumped and left to fend for herself with no knowledge of how to do so. She is sweet and is continuing to come around to the indoor lifestyle. She is looking for a calm quiet home to keep her safe with a family who will love her unconditionally!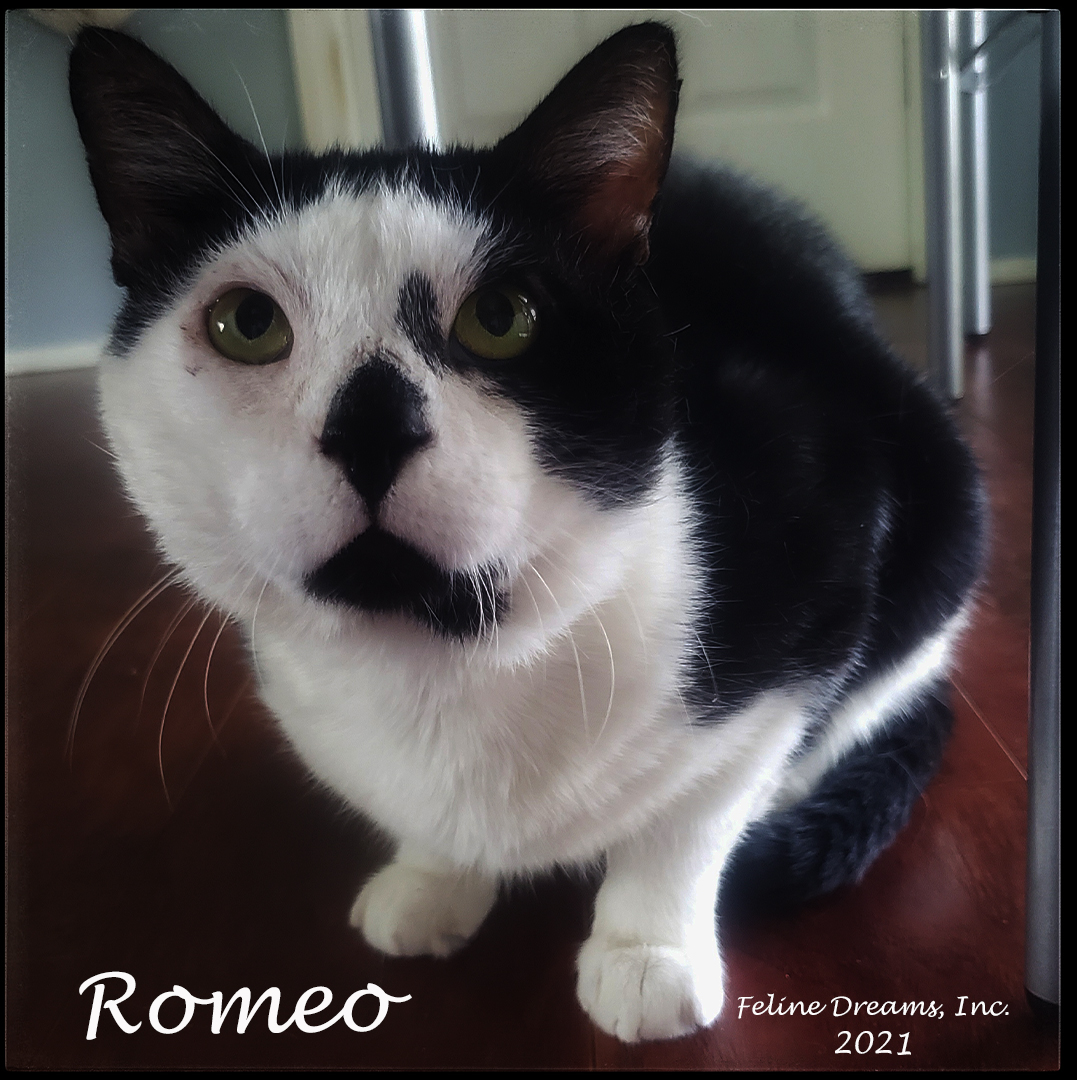 Romeo
Domestic Shorthair
DOB: June 13, 2012
Male
Special Need: FIV+
Romeo earned his name in spades! After spending 8 years outside, he is looking for his purr-fect family! He will charm you day in and day out! Especially if it means he gets food and treats! He is a calm quiet boy who will snuggle in your lap and make your whole day better every time!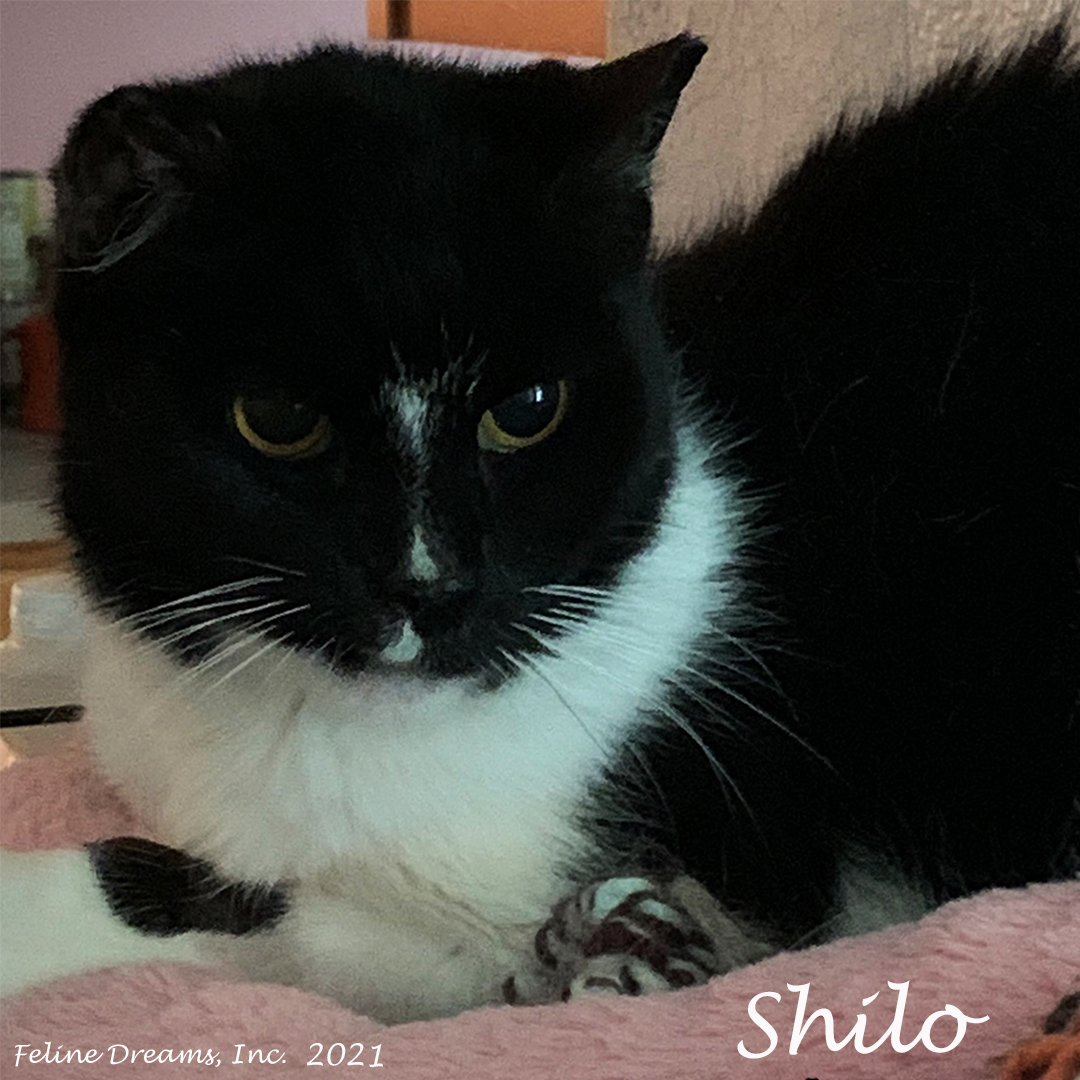 Shilo
Domestic Shorthair
DOB: April 08,2011
Male
Shilo was living in a dangerous situation outside with injuries. We could not let that go on! This guy is so sweet!! He loves pets, purrs loud, and makes biscuits while he walks! He gets along with everyone and just wants a family to love forever and ever!
Purr-haps that could be you?!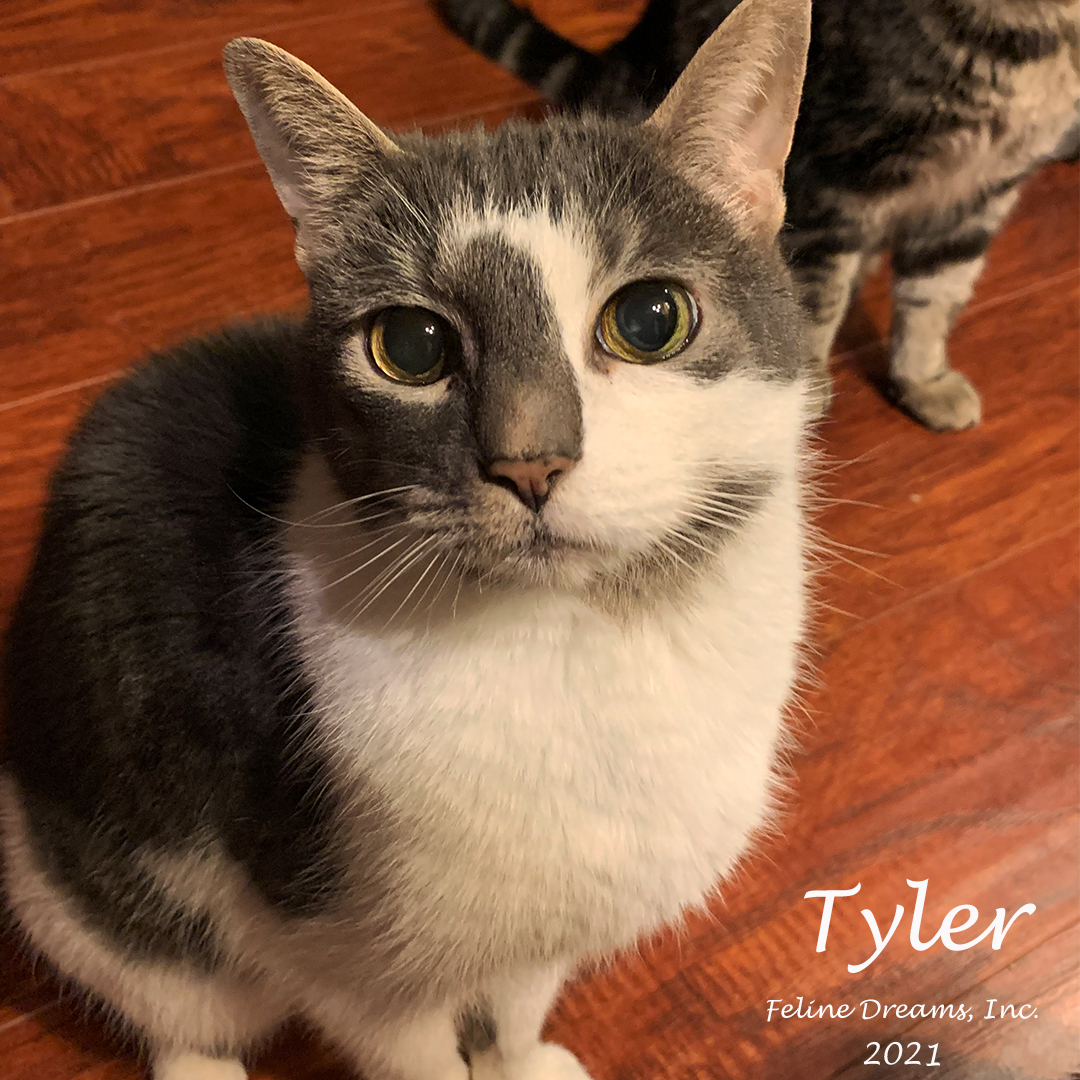 Tyler
Domestic Shorthair
DOB: July 01,2008
Male
Special Need: Special Diet (Urinary)
Tyler is a sweet quiet boy who thought he had a family who loved him. What they did was deny him proper medical care for 12 years and trade him in for a new kitten. Horrible. 
He is shy but sweet and treat motivated!